It's Incredibly Smart
All your temperature data is stored both onboard the device and on your FireBoard Cloud account. Data is synchronized between the two – so you can always view your historical and current cooking.

Cloud Connected
The FireBoard connects via WiFi to our FireBoard Cloud servers, allowing you to monitor temperature remotely via your phone or the web.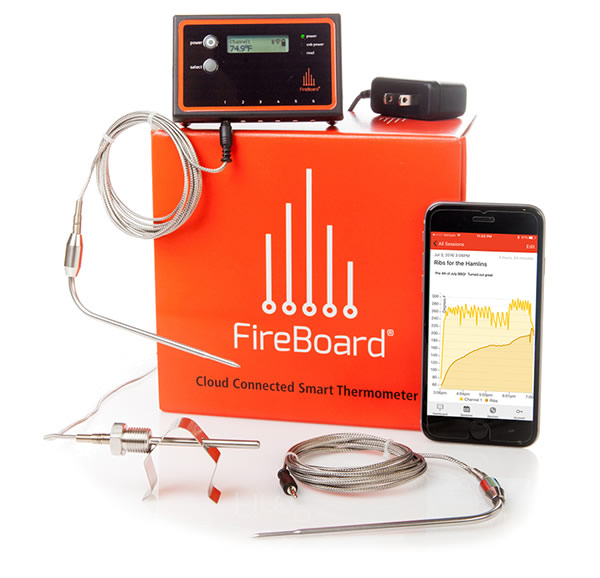 Accuracy
We wanted to make sure our design provided accurate and reliable temperature readings. This requires two things: a solid circuit design; and robust and accurate temperature probes. FireBoard has both.

Elevate Your Cooking
Bring an industry leading thermometer into the home. Become a better home cook by making sure you're hitting the precise temperatures you need for your meal.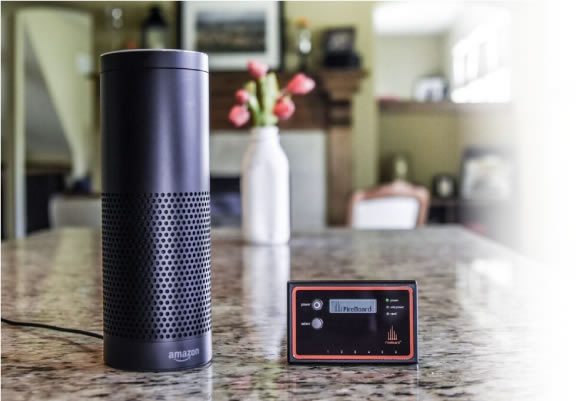 Meet Your New Sous Chef
The FireBoard Alexa skill is the perfect way to check the temperature of your food while you're busy preparing a meal. FireBoard makes cooking fun!
+

How hot can the FireBoard and probes get?
The thermistor probes and cables that come with the FireBoard are rated from 0°F to 572°F (-18° to 300°C). We also offer RTD versions of our probes that are rated from -58°F to 716°F (-50° to 380°C).
Learn more about our probes here
.
The FireBoard unit itself is rated to 140°F (60°C) but in our laboratory testing, we believe the device should withstand temperatures in excess of this rating. Despite those tests, certain components used within the FireBoard are only rated up to 140°F (60°C).
+

Can I use the FireBoard with my gas, propane or charcoal grill?
Absolutely!  The thermistor temperature probes are rated up to 572°F, which should be satisfactory for most cooks on a grill. Temperatures inside of some grills may exceed the probe ratings, especially over a direct flame, so please use caution as you approach those higher temperatures.
+

How long does the device take to charge? Also how long does the battery last?
The FireBoard should take between 5 – 8 hours to charge. The charging and power behavior of the FBX11 is similar to a cell phone, where the device can be powered from USB and also recharge at the same time. The device will automatically turn on when it is plugged into USB Power.
The FireBoard's Li-Ion rechargeable battery should last approximately 24hours.
+

What type of Bluetooth connection does the FireBoard utilize to connect to the FireBoard?
The FireBoard utilizes a Bluetooth 4.0 (Bluetooth Low Energy) Profile to communicate between the mobile app and the FireBoard. With a BLE connection, the pairing process where you entered a passcode is not needed anymore. The mobile app should automatically scan and find FireBoard devices via BLE. If you run into issues with discovering devices, in the worst case, you can force close the app, turn your Bluetooth on/off (e.g. airplane mode) and the try to connect again.
+

Are the probes waterproof?
Yes — Our manufacturer for the probes confirms they are waterproof, and our testing so far supports this claim. We have submerged the probes many times and they perform very well.  While we don't have an official IP rating for the probes, we are continuing our tests and will keep our customers updated.
Have another question?
Or, need support?
Let us know! We are here to help.
Ted worked in the investment industry for the first 14 years of his career, focusing on building expert systems and proprietary software to support investment strategies.  Always tinkering and soldering with electronics in his spare time, FireBoard has brought together Ted's passion for not only building businesses and software, but also building hardware to solve simple problems for everyday life.
Steven Briggeman has been consulting in the digital space since 2002. He has developed practical tools that are being utilized in a wide range of applications – from Market Research firms, college classrooms, state agencies, and small business. With FireBoard, Steven is able to utilize the depth of his expertise in web technology while also developing new skillsets in developing mobile applications.